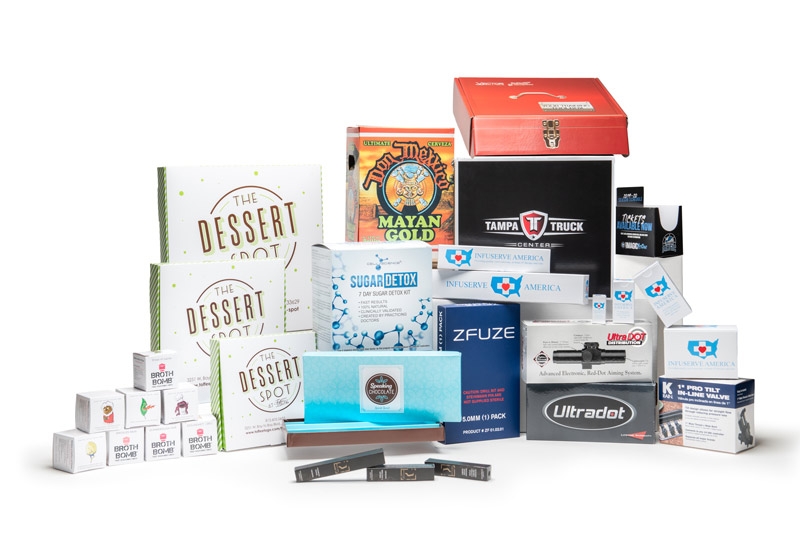 Folding Custom Packaging Trends
Emerging trends for folding custom packaging services
The simple truth about having any kind of product out on the market is that you're going to need to develop your own kind of packaging for whatever you're selling. This packaging must not only be of high quality and protect your product but must be designed in such a way that it will stand out amongst your competition and represent your brand in a positive light.
Many products are utilizing folding custom packaging as a way to not only provide functionality but also stand out in an ever-increasing marketplace. Because of this, we thought it'd be a good idea to discuss some of the current trends for carton packaging.
Packaging Customization
There are so many types of custom packaging used for a variety of products these days that creating one that sticks out while providing proper functionality is essential if you want to compete with the many other products that are out there trying to grab market share. Designers are working more closely than ever with companies to customize the perfect packaging for their products. If you want to create packaging that catches the customer's eye, this is an absolute must!
Brand Awareness Through Creative Design
Ask any first-week marketing student and they'll tell you that building a brand is one of the most important aspects of success. Brand awareness comes not only from the development of a logo or the product you're offering, but is also tied to every design aspect involved with your company. This includes the design of custom packaging, which can be used to sell your brand by becoming an intrinsic part of the product itself.
Window Patches
Another trend that we've been seeing with custom packaging is that consumers seem to love viewing the product, and even sometimes touching it, before they actually purchase it. The best way to do this with any kind of packaging is by providing what's called a "window patch" that either allows them to see into the box on one side so they can actually view the product. With some items, you can even push a button through this window to hear the noise that the product makes or touch the item to see how it feels. Think of it like a test run before purchasing, and this has led to an increase in sales for a more functionable brand packaging option for companies!
More Eco-Friendly Solutions for Custom packaging
These days, it's a simple truth that businesses "going green" is not just a trend, but an increasingly important business decision. Due to consumer concern over the environment, in addition to business owners wishing to do their part, folding custom packaging has become more eco-friendly than ever before by offering a number of popular solutions of recycled materials. Since the demand for this type of custom packaging is here to stay, it's important to get on board if you haven't done so already.
Increased Demand with Certain Products
Folding custom packaging has been spiking in popularity due to certain markets experiencing a higher demand in recent years. The current trend is showing increases for products such as dry foods, frozen/chilled foods, medical supplies, and cosmetics. This is especially common in emerging economies, whereas developed economies are expected to remain stable in the foreseeable future. Either way you cut it, this is certainly great news for any business utilizing custom packaging because it shows that consumers are responding well to them and could be just the unique twist to your brand to help boost sales.
ColorFast Perfect Printing Will Help with All Your Custom Packaging Needs
The design and printing of folding custom packaging is an essential part of creating a great product. We can provide you with custom packaging for items such as beer, cosmetics, pharmaceutical, and food packaging. ColorFast Perfect Printing is the premier Clearwater printer because of our dedication and expertise toward custom packaging solutions. For the best design and printing services in Clearwater, reach out to us at (727) 531-9506!
Top